A place of quiet, comfort and unique sensory experiences has been created at the Challenge Disability Services Site on Greg Norman Drive in Tamworth, NSW.
Warwick Bennet, a former mayor of Tamworth himself, donated the funds for the Sensory Wellness Room to assist with Challenge Community Services' disability support work. Here's how it's changing the landscape for people with a disability.
What is a sensory room?
The sensory room has been around for decades in one form or another. But how it supports people with disabilities is one of its most impressive functions, with organisations all over the world embracing its potential to improve the lives of those with limited communication.
Developed to engage people with a diverse range of disabilities, the space utilises the power of lighting, sounds, art, music and objects to act as a therapeutic experience on the participant's senses, and is particularly helpful for children with limited communication skills.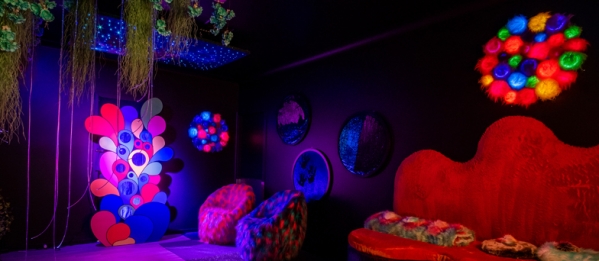 Step inside Challenge's sensory room in Tamworth
Designed and constructed by Newcastle-based artist Bliss Cavanagh, who specialises in sensory art and design, the Tamworth Sensory Wellness Room includes plush couches and beanbags, dramatic and colourful artwork that clients can touch, a miniature indoor garden space complete with a tree enveloped in lights, a ceiling 'skylight', and more.
"I'm a passionate advocate for mental health and sensory wellness, having my own personal experience of living with Tourette syndrome," says Bliss. "My hope is that the custom-designed sensory room in Tamworth will continue to be successful for Challenge and support clients with disabilities for many years to come."
The overall goal of any sensory room is to enable a person with a disability to control and interact with their environment in a calm, gentle way. Outcomes can include anything from reduced stress and anxiety, to regulation of emotions, greater wellbeing or simply a sense of relaxation.
Changing lives for the better
While sensory rooms aren't yet funded by the NDIS, the hope is that this will soon become the case – especially considering the huge impact Challenge's sensory room has had on the Tamworth community so far.
"People with varying degrees of disability, particularly those with high-support needs, just find it so calming," says Barry Murphy, Challenge Community Services CEO.
He recognises that support services like Challenge often don't have the vital funds to install major facilities like the Sensory Wellness Room, which is why Warwick Bennet's donation has been so crucial.
"It's wonderful to have people who come along and say, 'What can we do for you?'" Barry says.
Warwick is simply happy that the room is being embraced by the community and used to its full potential.
"The part that really gets me is that people are using it and loving it," he says. "That's what you want to see if you give a donation – that it's not wasted."
Challenge Community Services would like to acknowledge the generosity of Warwick Bennet and his wife Margaret for their wonderful donation. We believe the success of this sensory room will have a knock-on effect throughout the community, and hopefully we will see many similar spaces installed in the near future.
For more information about Challenge Disability Services, please contact us on 1800 679 129 or disabilityservices@challengecommunity.org.au
Photography by Chasing Summer
Image 1: Challenge CEO Barry Murphy with Warwick Bennet and Wife Margaret
Image 2: The sensory room by Bliss Cavanagh at Challenge Disability Services Tamworth