It was a big day down at Alan Burns Oval on July 15 as the Trangie Magpies hosted their Indigenous round, old boys, ladies and sponsors day.
The jerseys worn during the match as the Magpies took on the Cobar Roosters were created by local student Angus Dugan with the support and help from Tots on Temoin and Challenge Disability Services.
Challenge Disability Services Supervisor Rebecca Rob said the team have been excited to see their designs come to life.
"We were approached by the Trangie Magpies and asked if we would like to do a design for the jersey, they also approached the schools and the preschool, so we sat down as a group and worked out what we wanted to do," she said.
"We went to the game and were also presented with a jersey and a certificate that we're going to frame and put up at the site.
"I hope they do it again, it was really good, the guys were really proud of what they did."
Ms Rob said the team were responsible for the magpie which features on the front, the boomerang, emu and kangaroo.
The preschoolers were responsible for the fingerprints and their names on the back, and the overall jersey was put together and designed by student Angus Dugan.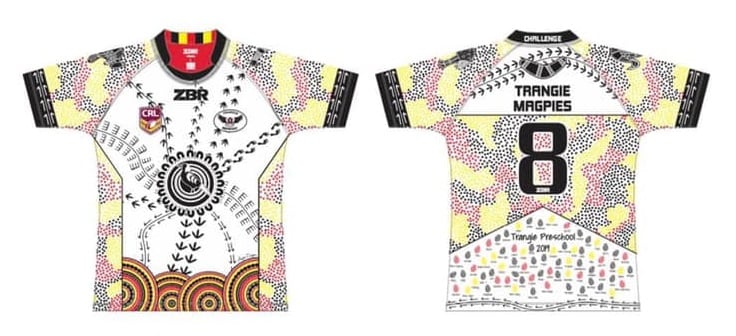 Since the round, Ms Rob said the group have been proudly donning their jerseys around town.
"They're very excited to show off their jerseys and what they've done," Ms Rob said.
"So when we go to Canberra in August to see the Roosters and Raiders play we're all going to wear our jerseys over there."
Ms Rob said the small team at challenge have been truly honoured to be involved and part of the community.
"These guys love doing things within the community," Ms Rob said.
"I think that's probably more important to them than any other program, is their connection with the community and getting out and about."
"And the community get right behind them. They might go down the street, and the community are always congratulating them on things that they've done, so they absolutely love it."
Story by Zaarkacha Marlan, Narromine News June 27, 2019